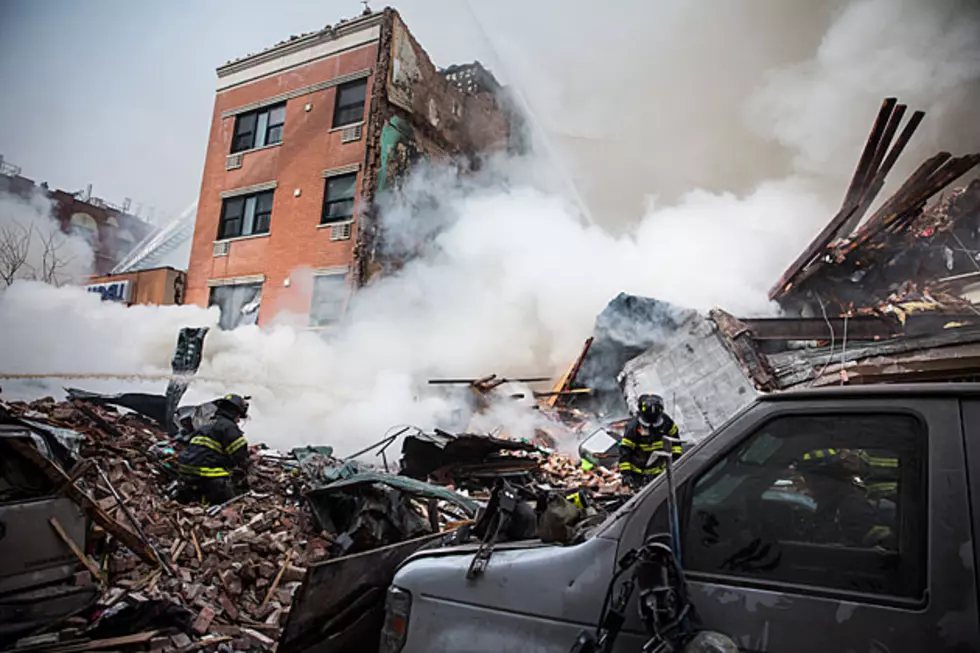 UPDATED: At Least 2 Dead, 22 Injured in New York City Building Explosion [PHOTOS]
Getty Images
UPDATE 1:30 P.M. EST: Police have updated the casualty numbers, saying that along with the two women who were confirmed dead at the scene, two of the 22 injured are in critical condition.
Two businesses were also located on the ground floor of the two buildings, a piano-repair company and a Spanish Christian church. The church's pastor, who also owns one of the buildings, is on the scene working with police to figure out if anyone is missing.
UPDATE 12:36 P.M. EST: At a press conference still taking place, authorities announced that Con Edison received a call about a strong smell of gas at 9:13 Wednesday morning. Con Ed dispatched an inspection team two minutes later, but by the time the team had arrived at the scene, the explosion had already happened.
Two adjacent apartment buildings in Manhattan collapsed after a gas explosion Wednesday morning. Two women were killed in the blast, which also injured at least 18 people and left many more missing.
Firefighters are still battling the resulting fire at the site, at 1644 and 1646 Park Avenue, which is in East Harlem. The five-story buildings sat between 116th and 117th Streets, but have been reduced to rubble, possibly trapping numerous people inside.
Emergency personnel are trying to uncover anyone caught in the debris, but still-burning fire is largely preventing any full-scale rescue attempts. Police are encouraging anyone who knows someone who lived or worked in either building to contact them.
Authorities have not revealed the cause of the explosion, but it seems likely to have been a gas leak, as many witnesses at the scene said the smell of gas was prevalent beforehand.
The explosion occurred near the Metro North transit line, which has been shut down indefinitely. Subway lines do not seem to have been damaged.